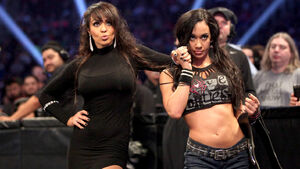 AJ & Layla were a villainous tag team performing in World Wrestling Entertainment. The pair aligned together after Layla turned villainous and cost Kaitlyn the WWE Divas Championship against defending champion AJ in August 2013. The pair quietly disbanded in September 2013.
On the August 2, 2013 episode of SmackDown, Layla accompanied Kaitlyn to her Divas Championship match against AJ Lee, continuing an alliance between the two that began in 2012. During the match, however, Layla turned into a villainess by betraying Kaitlyn and preventing her from harming AJ from ringside. Layla laughed evilly as she watched AJ defeat Kaitlyn, and she left with AJ to cement her heel turn. On the August 5 episode of Raw, the villainous Layla stated that she betrayed Kaitlyn for attention, and later defeated Kaitlyn in singles competition after a distraction by AJ. On the August 16 episode of SmackDown, Layla teamed with AJ in a victorious outing against Kaitlyn and Natalya. On the August 19 edition of Raw, Layla and AJ were defeated by The Funkadactyls (Cameron and Naomi). On the September 6 edition of SmackDown, Layla aligned with Alicia Fox and Aksana and attacked the Total Divas after AJ told them to take a stand against the cast members. At Night of Champions, Alicia, Aksana, and Layla informed AJ that they would no longer be aligned with her; disbanding AJ's alliance with Layla.
AJ and Layla teamed together for the first time in over a year on the October 13, 2014 edition of Raw and defeated Paige and Alicia Fox, despite Layla abandoning AJ during the match. After the match ended, AJ brutally attacked Layla outside the ring.