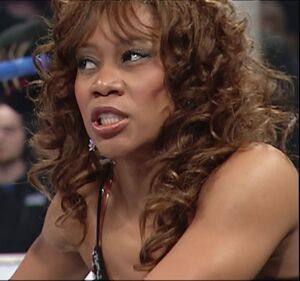 Sharmell Sullivan-Huffman (born November 2, 1970) is an American retired professional wrestling valet and occasional professional wrestler. As the wife of Booker T, she is best known for her time with World Wrestling Entertainment (WWE) as the evil Queen Sharmell until her release in 2007. She first came to prominence in the wrestling world as Storm a member of the World Championship Wrestling dance troupe the Nitro Girls and she also played a character called Paisley. Sullivan-Huffman performed for Total Nonstop Action Wrestling (TNA) under the ring name Sharmell from 2007 until leaving the company in 2009.
Professional wrestling
Edit
World Wrestling Federation / Entertainment (2005–2007)
Edit
Sharmell debuted for World Wrestling Entertainment in 2005, debuting as a face valet for her real-life husband Booker T. Together they took part in a feud with Kurt Angle, during which he continually sexually harassed her. After the angle ended, Sharmell became a hidden villainess when she started interfering in Booker's matches, with Booker unaware of Sharmell's heel persona. Sharmell behaved herself for the most part during Booker's United States Championship match against Chris Benoit on October 21, but once Booker was in trouble, Sharmell turned heel and attempted to insert a steel chair into the equation, but was caught by Benoit, resulting in Sharmell snarling evilly at Benoit. Later on, the evil Sharmell delivered a low blow to Benoit, allowing Booker to win the title. The events preceded a heel turn by Booker when he revealed he knew of her involvement in his matches the entire time.
Sullivan and Booker T then began a feud with The Boogeyman, and during a match at WrestleMania 22 he managed to kiss Sullivan while he had a mouth full of worms. After Booker T's victory in the 2006 King of the Ring tournament, Booker T began referring to himself as "King Booker" and Sharmell as "Queen Sharmell". As part of their new on-screen personas, the duo began speaking in faux British accents and acting pompous. On the April 6, 2007, episode of SmackDown!, Sullivan turned on her husband, claiming his failure to defeat Matt Hardy that night—after he'd nearly attacked her during WrestleMania 23—meant he didn't care about her honor.[17] Later that night, as part of the storyline, Booker tried to impress Sharmell by attacking World Heavyweight Champion The Undertaker which ended in Booker being hit with a Tombstone piledriver on the announce table and sprained Booker's neck, which put him out of action. On the June 11 episode of Raw, Sharmell (with King Booker) was drafted from SmackDown! to RAW as part of the WWE Draft.[18] Due to conflicts with storyline and overall character direction, in October 2007, Sharmell, along with Booker, requested and were granted their releases from their contracts by WWE. She then made an appearance at the 2013 WWE Hall Of Fame to watch her husband get inducted.